【Character cards】

Mr.Xu Rongqi, Vice Chairman of Fujian Stone Association, President of Xiamen Stone Chamber and President of Xiamen Tongho Stone Co., Ltd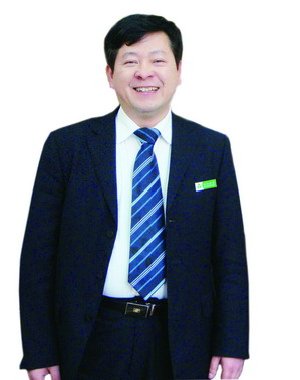 【Motto】

Be truthful, be creative and innovative.
Xiamen and its surrounding areas have formed the largest stone industry in the whole world, 75% of the annual output domestically comes from Xiamen. Mr. Xu Rongqi has been the vice chairman of Fujian Stone Association and president of Xiamen Stone Chamber for a decade and following his leadership the entire industry had been brought to a whole new level of development.

1.Stones are radioactive? Nonsense!
I have become a "stone man" for almost 3 decades, says Mr. Xu. Graduated from Zhejiang University, majoring in Geology was the beginning of the story. Now, Xiamen has become the center of stone industry of the world, in order to build a home for stones from all over the globe, Mr. Xu and his partners have devoted so much in the project of Xiamen International Stone Center. Right now, the construction has reached its final stage.

Just so you know, stone has become part of my life, to me, stones are alive. Just like human beings; every stone has its origin and story, we can decrypt the nature by look into stones. Says Mr. Xu.

Every time on business trip, to check the stones used in the hotel he lives in are always his priority. He can identify their origin and history by just a glance. While in Italy, he saw plenty of statutes from renaissance period; in Taiwan, he met a friend who has collections of thousands of stone lions, the earliest one dated from Han Dynasty. He is obsessed with the stones because they tell us their life course as well as the history curve.

The education background, expertise and work experience become a powerful tool for Mr. Xu to get into the stone market. He used to work in Chinese academy of sciences and participated in national 305 project.

In the 1990s, rumor has it that stone is radioactive and it could harm people's health. In order to clarify this misunderstanding, Mr. Xu wrote tons of articles and quoted science research result to show the public that the radiation emitted from stones can do no harm to human bodies. For example, in 1970, DOH had done a research in Guangdong province, where there was a place showed radiation emission abnormality, to see how the radiation affected the local residents' health. The Japanese researchers were doing the same research at the same time. The final result shows that the mortality rate of this area is lower than the contrast area, which proves that the radiation from stones is rather beneficial than harmful.

Under Mr. Xu's effort, China Stone Association agrees to summit reports to Department of quality supervision to prove the radiation of stones is harmless. Eventually, on 2010, the department decided to delete marble and sandstone from statutory radioactive detection directory.

2.56 pages of report overnight? The Customs staffs are surprised

Mr. Xu tells us that China is the largest stone import country in the world and 2/3 of which is through Xiamen port annually. India exports 2/3 of the raw materials to China for processing before shipping to other countries; so do Brazil and Turkey with more than half of the raw materials export to China. Millions of people are working in this industry in Fujian province, 2/3 of which are in south of Fujian province and the other 200 thousand people are travelling domestically and internationally for mining, purchasing and sales. As a leader in this industry, Mr. Xu overcomes numerous difficulties and fully devotes himself in this business for all the stone people and this industry.

24 hours a day is clearly not enough for Mr. Xu. Not only does he deal with his own company, Mr. Xu is in charge of the daily work of Stone Association, as the matter of fact, 10 more hours of working is basically a routine for every day; additionally, time difference leads to late night email communication with customers. Even under such high-intensity of work load, Mr. Xu is always the first one comes to work every single day.

His hard works, professional expertise, as well as the thorough comprehension of the industry are his power tools to work efficiently. A couple of years ago, the China Customs asked for report of tax reimbursement for export from Stone Association, however, no one had prepared the report before hand. Mr. Xu took the responsibility and wrote a 56 pages long report to summit overnight, which surprised the Customs staffs for the quality and the length of the report.

3.Build a headquarter for stones in Xiamen

Recent years, we are going through transitions, from import/export commerce to industrial commerce. Some companies have started purchasing mines here and abroad or doing exclusive sales; some are becoming exclusive agent of certain stones, therefore, raise added value of industry chain.

"In the past, the Italians were leading in this industry and they control mines in Brazil and India and some other big countries. We are glad to see they stop moving forward, which gives a great chance to step in." says Mr. Xu. "We have cost advantage and which is the crucial component in this industry or in any other industries, we are certain that in the near future we can take over the whole stone market. However, in order to achieve that, we must upgrade our equipment and be creative of our design."

What really concerns Mr. Xu is the talents that this field needs. The problem is, we don't have enough of them. As the matter of fact, most people in this business don't receive much education and none of the universities offer any related courses, therefore, the knowledge and skill are simply pass down from masters to apprentices. We have to admit that this business is tough, young people are not willing to do it and it is very possible that the legacy would disappear.

Mr. Xu tells us that the construction of Xiamen International Stone Center has reached its final stage and he has great hope and look forward to seeing that the building will serve as a home for every stone man and all the stones from all over the globe.

Source: China Stone Net - industry celebrities http://www.stonesm.com/